Acupressure Acupuncture Without Needles J. V. Cerney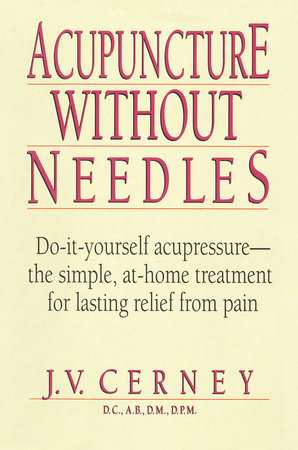 Acupressure Acupuncture without Needles by J. V. Cerney is a practical and useful book for anyone wanting the benefits of Acupuncture but who does not having a practitioner of Traditional Chinese Medicine nearby (or who can not afford to go to an acupuncturist on a regular basis.)
On this book's blurb it says the author offers a 'new home treatment... that may bring easy, safe and lasting relief from pain' and that can help many ailments. So if you are looking for a non-pharmaceutical method for relieving and reducing pain, this book by Cerney should be of use.
This should be of special use to anyone who suffers pain from thesmall spinal fractures that make for kyphosis (back hump).
You can purchase this book by clicking on Amazon New and Used books 
The book does not address bone loss directly BUT it does show you how to find acupuncture points and how to stimulate them with your finger (the correct movements). Some readers of this site about reversing Osteopenia and Osteoporosis may be interested in this non-pharmaceutical treatment method.

The author shows you how to use finger pressure on various acupuncture points to heal yourself and to relieve pain. The book also includes many diagrams of the body with the acupuncture points marked and labeled.  C. Norman Shealy, MD. says that certain acupuncture points, which he call The Ring of Fire, increase Calcitonin, a chemical that slows the removal of old bone and enhances or produces recalcification of osteopenic bone. (It should be noted that Calcitonin can also reduce bone pain).

If you have read Acupuncture and the Ring of Earth you know the points associated with this way of reversing bone loss. J. V. Ceney can show you how to stimulate those points correctly.
This book may be of particular interest to anyone with arthritis who wishes to avoid pain medications (often a cause of bone loss). It should also be of interest to anyone with kyphosis (dowagers hump) since this condition can be a cause of chronic pain.
Acupressure without Needles is not a new book. You are not likely to find it in your local book store although if you have a nearby shop for used books, you might find a copy. But the book is available at Amazon in both paperback and hardback.
Buy your copy now.  Just click: Acupressure Acupuncture Without Needles by J. V. Cerney 
---
Have you read Acupressure Acupuncture Without Needles?  
Is so would you share your thoughts about this book with other readers of this web site? Did you find the book helpful? Is it worth reading?
Have you read this book?
If you have read this book, do share your comments!

SPECIAL NOTE; Anonymous submissions and submissions with urls will not be published. Thank you for understanding.
What Other Visitors Have Said
Click below to see contributions from other visitors to this page...

acupuncture without needles on the web

I have not yet read this but intend to. Having undergone a successful course of acupuncture for neck pain and relaxation, I have been fascinated by the …