Best calcium supplement
Best calcium supplement - Which is calcium supplement is best? Is there a calcium supplement that builds stronger bones for both women and men - no matter what their age? Is there a supplement that is not likely to narrow your blood vessels because its calcium is deposited there instead of being absobed into your bones?      
---
One of the great problems with calcium supplements is that most of these supplements are not well absorbed by the body. All too many make their way through your intestines unabsored and their calcium ends up in the toilet. With supplements other than this Best Calcium supplement, the calcium can wind up lining your blood vessels...narrowing those blood vessels and leaving you at risk for cardiac issues.   
What we have long realized is that we need is a supplement that is well absorbed; one where the calcium moves into our bones and does not wind up in the toilet bowel or lining our blood vessels. THAT, if it existed would truly be the Best Calcium supplement.

---
Does such a supplement exist?
The good news is that such a supplement does exist.  Yes!  Now it could be that there is more than one such supplement  in existence. But if that is the case, I do not know of it. I have not found ant research about such a supplement.                            
I  know of just one supplement that fits the bill. A few years ago I became aware of a calcium supplement that come from plant material, not mineralized rock or shells. In fact, the company making this supplement contacted me to see if I would consider including it on this web site. But you know me.  I am a pretty skeptical person.         
If you have been reading this web site for awhile or if you  signed up to receive my free newsletter. Osteopenia Treatments Newsletter, you know that I am always looking for scientific evidence that backs up anyone's claim about something being 'good for our bones'.  Well, I have good news.
It is more than 10 years since the makers of this plant based calcium supplement contacted me about listing their supplement on this web site. They claimed that their product, unlike most calcium supplements, would not clog blood vessels because it was plant based. It was not derived from shells or rock.  I hesitated. I told them I wanted to see some scientific studies backing up their claims.
An effective calcium supplement, a 'best calcium supplement' - one made from marine algae exists!
The company funded studies. When the results came in the studies showed that their supplement, called AlgaeCal which includes: Organic Plant-source from Marine Algae Calcium and Vitamins D3 & K2 and Strontium  showed clinically proven bone growth! Many other supplement tested in studies showed either NO or only minimal clinically proven bone growth.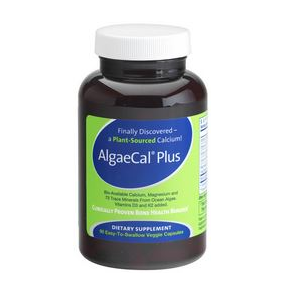 This was significant.  I agreed to list the supplement on the Osteopenia3.com web site.  And if you want to try AlgaeCal, you can buy it using this link:

AlgaeCal Plus
Calcium Supplement, Guaranteed to Increase Bone Density
I think I should add:
The company that makes this calcium supplement is so sure that it is effective AND that you will be pleased with your results, that they offer a remarkable guarantee. I suggest that you use this link for your purchase...just because of the guarantee offered on it.
The
AlgaeCal Bone Health Plan
will Increase Bone Density or Double your Money Back!
Click on this link if you want to read pages about: Other kinds of Natural Treatments that build bone.
---