Osteoporosis and Osteopenia products
---
Piping Rock -  I have been pleased with items I have bought from Piping Rock. They sell vitamins, supplements and 'life enhancing natural products".  Their motto is "Always the Best for Less".   Take a look : Piping Rock
  Life Extension offers many products based on Scientific Research Studies. This      is a company that I , myself use. If you are looking for science based supplements,      do a search for Osteoporosis at:  Life Extension. 
Amazon. Click on the link below to find products ...including supplements to build stronger bones. And weight vests that will help you build bone.                                   Note: I am what is called an Amazon associate. That means if you buy anything through a link on this site, I receive a small commission.  It is one way I can afford to run such an extensive web site about Osteopenia, Osteoporosis.  
You can search Amazon  by clicking on this link: Amazon   
---
Other companies that offer goods or services that I have used. You may want to try them.  And yes, if you use a link on this page to place an order, I get a small per cent....how I pay for expenses.

Bone building products.
1. Supplements
AlgaeCal Plus Calcium - AlgaeCal is a bone building supplement that scientific studies demonstrate that it actually builds new bone. Get stronger bones. Click here to order AlgaeCal and AlgaeCalPlus Calcium Products.                                                                                


Weight vests and free weights can be purchased at Amazon
---
2. Alternative Osteopenia, Osteoporosis therapies: Tai Chi and Weight Vests

---
A different sort of product. One that will bring you income.

4. You could earn income with your own web site with SBI.  Some years back I decided to try to supplement my income with a web site. I built one. But it never got many visitors because it had such poor placement in search engine returns. The information was good BUT people never found the site. Then one day I read about SBI, a Canadian company known for teaching ordinary people to build successful websites. I  decided to try SBI. The rest is history.
SBI company showed me which topics could succeed as a web site AND showed me how to get pages good web search ranking..  (With SBI  I learned to build pages that ranked among the first on search engine returns - something I never knew how to do before before)       
SBI has 'cracked the code' for web sites: what topics people want, how much competition there is for good search engine placement AND best of all they show exactly how to write each page.  SBI also showed me how to earn money with my web site.  And they offer great support. I can not say enough good things about SBI. (I had  built web sites before.  All failures. It was not until I found this company that I found success.)                                                                                                 
Why not check them out?  Click the image below to go to SBI information page. ...and if you decide to try SBI and you use the link in the image below for your 'money back trial ",  I promise you my personal support as you learn.)  Now SBI offers so much support, you may not need me at all....but I make the offer anyway. Kate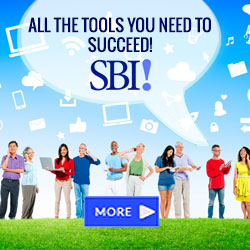 ---
Thank you for shopping through this page. By shopping here you make it possible for me to continue the work on this web site.
Financial disclosure statement can be found at Osteopenia Products Financial disclosure