Protelos Osteoporosis medication

Protelos Osteoporosis medication (also known as strontium ranelate) was approved for use as an Osteoporosis medication in 27 European Countries.  The drug was met with much fan fare - even the New England Journal of Medicine has an article about it.
It was thought that this drug opened a new direction in Osteoporosis medication because it not only slows the work of the osteoclasts but it stimulates osteoblasts to create new bone. This is the first drug that does both.
The drug has received the Frost and Sullivan Award for drug innovation. The Award statement said, in part:
"This award brings recognition to a truly innovative therapy for the treatment of a disease which is often referred to as the "silent epidemic". Almost half of women aged 50 years are predicted to sustain at least one fracture in the remainder of their lifetime . . .[This drug] offers a completely new approach to treating postmenopausal osteoporosis and provides doctors and patients alike new hope in the fight against the disease."
Sources: http://www.servier.com/pro/html_news_home/frost_sull.asp
Effectiveness: Protelos Osteoporosis medication.

Protelos (stronium ranelate) has been shown to be highly effective in reducing fractures.
Servier published clinical tests results showing that in a five year study of 5,091 post menopausal women with osteoporosis showed:
16% risk reduction in non vertebral fracture (p=0.04)
19% risk reduction in major fragility fractures (hip, wrist, pelvis & sacrum, ribs & sternum, clavicle and humerus)(p=0.031)
36% risk reduction in hip fracture in a high risk elderly population (age > / = 74 years and T score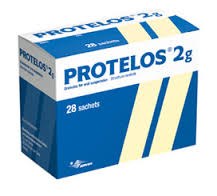 8.2% increase in bone mineral density at the femoral neck (p<0.001)
It was also shown to reduce vertebral fracture by 39% (p<0.0>) Servier's study also states that this drug was well tolerated throughout the study. Irritation of the upper gastrointestinal level was no greater for strontium ranelate than for the placebo!
Full Source: http://www.druginfozone.nhs.uk
Practical information:
Practical information about Protelos Osteoporosis medication. This Osteoporosis medication comes in small packets, 'sachets', which must be mixed in water. The advice is to take it at least 2 hours after a meal, preferably at bedtime.
What should I discuss with my health care provider before taking this drug ?
More information:
Keep up with the latest research about reversing bone loss. Subscribe to Osteopenia Newsletter Now!