Actonel side effects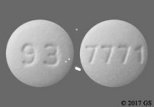 Actonel side effects. (also called, Risedronate)  Pharmaceutical drugs have side effects.  Actonel  is no different. If your health care provider prescribed Actonel to treat your Osteoporosis, you will want to review the side effects - so you do not think something has 'gone wrong' if you experience one or more of them.  
Side effects of Actonel as reported in the medical literature:    If you experience any of these side effects after starting this medication,  contact your health care provider as soon as possible .... so you can get some medical advice about whether you should continue taking this drug for your Osteoporosis or Osteopenia or if you should switch to a different one.
Now not everyone experiences side effects from this Actonel.  Some people taking it experience NO side effects at all. Others do have some and the side effects and these may range from the merely inconvenient to very serious ones. So read on.....

Here is a list of the most common side effects of Actonel:

Back pain A little over 25% of people using the drug report back pain.
Burping
Constipation -

Yes, it could be Actonel  that is causing your constipation.

Some patients report Abdominal (stomach) pain.
Bladder infection (urinary tract infection or UTI). These can be an Actonel side effect so if you get a UTI after starting this drug, be sure to tell the health care provider you consult for your UTI that you are taking Actonel. Be ready to say when you started it and what dose you are taking.
Diarrhea - is a common side effect. If you experience diarrhea, please contact your health care provider as soon as possible and be sure to follow your provider's advice.
Difficulty breathing
Dizziness
Dry mouth
Dull, aching pains in the groin, hips or thighs
Frequent need to urinate
Gas
Headache
Hoarseness
Irritation of your esophagus - a  'burning' in your throat. This can be caused by the medication touching the interior of your esophagus as you swallow it.        Drinking more water when taking Actonel sometimes stops this problem.  If the irritation continues, do contact your health care provider. It could be that you should not be taking Actonel at all. Your doctor can prescribe a different medication.
---
More Actonel side effects:
Joint pain Up to 23.7 percent of patients report joint pain.
Loosening of the teeth
Muscle spasms, twitching, or cramps
Numbness or heavy feeling in the jaw
Numbness or tingling around mouth or in hands or feet
Painful or swollen gums
Poor healing of the jaw
Sensitivity to light
Swelling: of your face, throat, tongue, lips, eyes, hands, feet, ankles, or lower legs
Swollen, red, or painful eyes
Weakness
If you are taking NSAIDS (nonsteroidal anti-inflammatory drug therapy, you could experience upper gastro-intestinal tract toxicity.                                               Note that a study done in 2001 showed that Actonel (Risedronate ) was 

more tolerated

 than Fosamax (alendronate) by women who had discontinued the use of Fosamax ( alendronate) because of gastro-intestinal irritation.
Eye issues. In 2006 there was a study published in Drug Safety,"Ophthalmologic events in patients receiving risedronate" A summary of information gained from follow up in a prescription-event monitoring study in England concluded in part that: "Patients receiving risedronate can present with a variety of signs and symptoms affecting the eye with different degrees of severity. Patients may present after the first month of treatment."   Dry eye, sore eye and conjunctivitis were the most frequently reported issues. Also some incidents of eye inflammation were reported by users of the drug. 
 Since Actonel ( Risedronate ) is a bisphosphonate, there are  some concerns about Osteonecrosis or 'dead jaw' as a  side effect of taking Actonel. Here is a page with information about Osteonecrosis and Potentially serious Actonel side effects

If you have been prescribed this bisphosphonate drug for Osteoporosis                and you want to read more information, just click drug informatrion: Actonel    And here are some links for reviewing research studies about Actonel 
NOTE: Since Actonel ( Risedronate ) is a bisphosphonate, there are  some concerns about Osteonecrosis or 'dead jaw' as a  side effect of taking Actonel.              I have created an separate page with information about Osteonecrosis which can come with the use of any of the bisphosphonate drugs.   To read the page, just click: more Actonel side effects 
Additional information. Here is another link for those who have been prescribed this drug for Osteoporosis and want to read more:  Actonel                                          And here are links to the scientific research studies about Actonel . Finally, this link will bring you to the company's web site with information about prescribing Actonel. 

---
Other Osteoporosis, Osteopenia medications
You can find information about other Osteoporosis medications at Osteopenia, Osteoporosis Medications
And if you are interested in reading about effective Natural Osteoporosis treatments , here are some backed by scientific studies.   Natural  treatments for Osteopenia and Osteoporosis
Share with other readers
If you have used Actonel for your Osteoporosis and would be willing to share your experience with others, please do so by using the form below. Please be sure to put Actonel Side effects on top of your contribution so I know where to place your comment. (I use the same form through out the site, so I need you to tell me where your comment should go.) Thanks.
Have you experience with this?
Do you have experience with this? Please share it!