AlgaeCal Plus in New Vegetarian Capsule
AlgaeCal Plus® has a new capsule. The company created a vegetarian capsule for their Alage based calcium because customers asked for it. Now that is a company that is sensitive to their customer's needs and wants.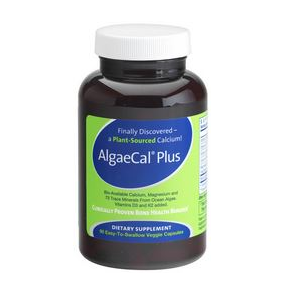 What is is AlgaeCal Plus?
It is a calcium supplement made from South American algae. Unlike most calcium supplements it is not made from animal sources nor from oyster shells. Those who have concerns about other forms of calcium will be glad to know that here is a supplement that is organic and plant based. It is derived from a specific South American algae.
This algae based form of calcium contains magnesium and other trace minerals. AlgaeCal Plus also contains boron, magnesium, Vitamin D3 and Vitamin K2. They have just increased the amount of Vitamin D3 (Cholecalciferal)in the supplement because research is showing how important this form of the vitamin is for good bone health.
Absorbability of AlgaeCal Plus
As you know our bodies find it difficult to absorb most calcium supplements.It is not how much calcium present in a pill that counts. What counts is how much can be absorbed.
The The manufacturer of this product had study performed to test the absorbability of AlgaeCal Plus. The study compared its calcium absorption with other well known sources of Calcium. AlgaeCal proved to be more absorbable than either yogurt or spirulina. It was 75% absorbable, while yogurt was 43% absorbable and spirulina only 9%.absorbable. The product was not compared with other calcium supplements to test absorbability..
As for its bioavailability, a study compared AlgaeCal with Caltrate 600, another popular calcium product. In this study AlgaeCal's bioavailability was found to be 75% while Caltrate 600 was 69%. Not an outstanding difference but for some of us trying to reverse bone loss, such small differences can count up.
There appear to be no studies comparing this products bioavailability with other calcium products. If and when those studies are published, they will be added to this page.
You can buy AlgaeCal and AlgaeCalPlus at Amazon
Contents of this Supplement

Based on a serving Size: 4 Capsules, this supplement contains:
Vitamin D3 (Cholecalciferal) 800 IU or 200%*
Vitamin K2 (as MK-4) 5 mg **
Calcium (from Algae) 720 mg 72%
Magnesium (from Algae) 216 mg 54%
Trace Minerals (from Algae) 1464 mg **

* Percent Daily Value Based on a 2,000 Calorie Diet
** Percent Daily Value Not Established
Other Ingredients: vegetarian Capsule. This product does not contain: sugar; yeast; wheat; gluten; corn; soy; dairy; artificial color, sweeteners, flavors, or preservatives.
There is more information about the studies at Scientific Studies
Recommended Dosage.
The manufacturer  recommends taking 3 capsules a day a meal time for maintenance or 4 capsules a day to increase bone density. If you are taking 4 a day, they suggest taking 2 with breakfast and 2 with evening meal.
Since the company also recommends Strontium supplements with this calcium product, you need to be sure that at least 3 hours elapses between taking your Calcium and Strontium supplements.
Since many recommend that Strontium be taken at bed time with water and not food, you could still take your AlgaeCal Plus calcium at your evening meal and then your Strontium at bedtime if that is at least 3 hours later.
Guarantee that it will work.
The manufacturer offers a guarantee of increased bone density after 180 days or your money back – but that guarantee requires a dexa scan before and after the 180 day period – most health insurance companies will not pay for such frequent dexa scans. also you need to take Strontium at the same time. The manufacturer sells Strontium also.
This supplement comes in bottle with 90 capsules. That is a 30 day maintenance supply or a 23 day supply for someone who is trying to increase bone density. The company offers discounts based on the size of your order.
The company also sells Strontium in the usual recommended dosage. I capsule a day of Strontium is sufficient. It might save time and shipping costs to order both supplements at the same time.
Note: For your convenience, I have added links to the AlgaeCal Plus page to the Osteopenia Products page of this web site so you can order or reorder easily later.

My hope is that having links on the Osteopenia Products page will save your hunting through bookmarks and urls for the site.

Have A Great Story About This Topic?
Do you have a great story about this? Share it!
Click to order your  AlgaeCal Calcium Supplement